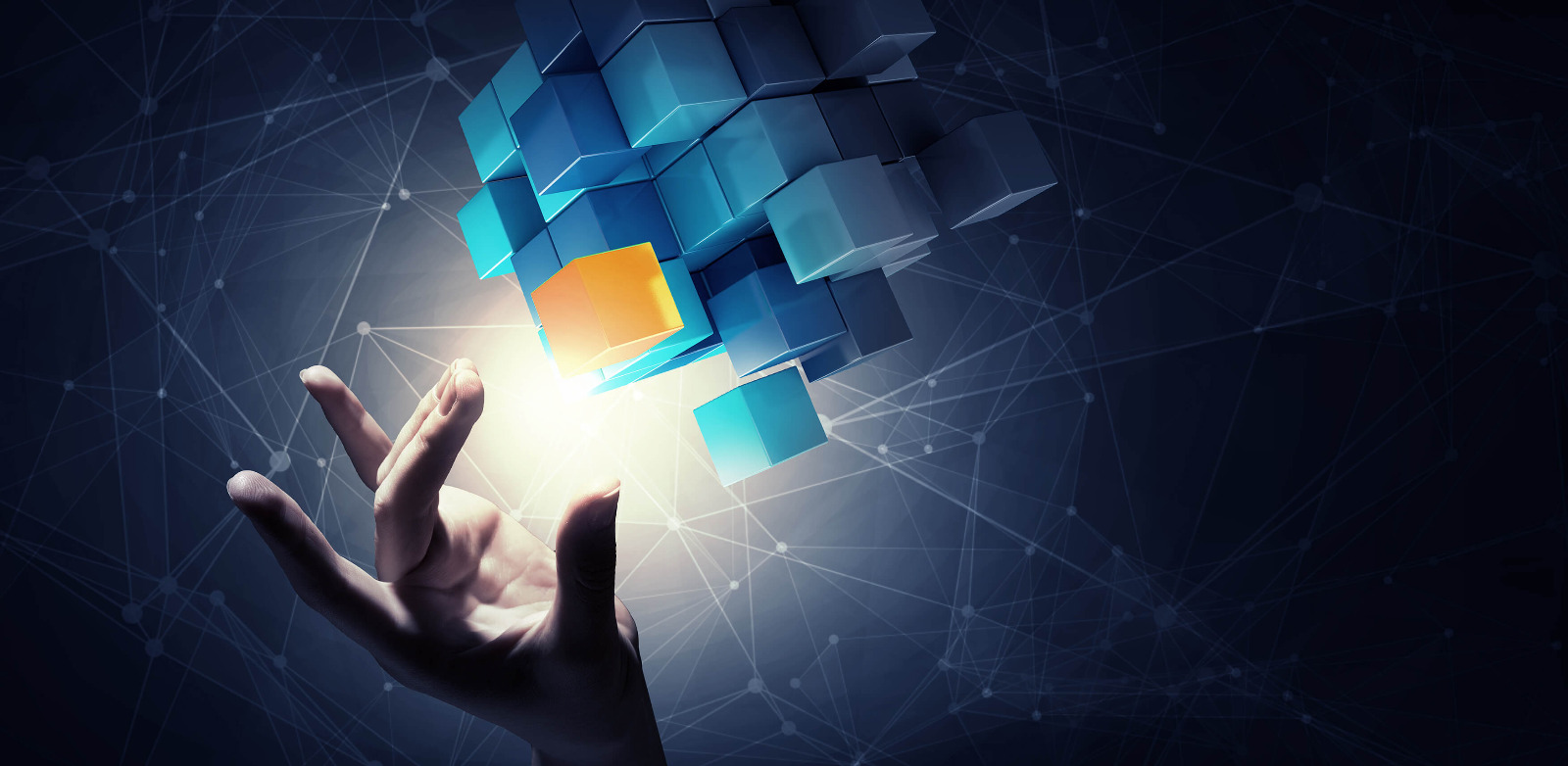 The InterStellar Manual
By Fintech LTD.
1. About Interstellar
Interstellar is a platform that helps you move money or other digital assets quickly, reliably, and at almost no cost.
Interstellar is powered by Stellar blockchain technology, and thus shares the same goal: to create a platform that connects banks, payment systems, and people.
---
There are so many ways Interstellar can be useful to you.
2. Benefits
Given how broad the Interstellar ecosystem is, Interstellar might mean different things to different people.
2.1 A Secure Multi-token Wallet
You can use Interstellar as a secure digital wallet to securely store your fiat and crypto-currencies. As examples, Interstellar will help you securely store your Bitcoin, Stellar Lumens or any other Stellar based asset.
Another neat feature of Interstellar is its support for multiple accounts, which is essential when you want to have different accounts for separate transactions.
2.2 A Decentralized Exchange
Why focus on one currency when you can own them all?
Exchange crypto-currencies between peers without a middle man. Safe, secure with no risk of bankruptcy from the exchange.
2.3 Multisig
Multisig(multiple signatures) will protect your account from thefts and loss.
Multisig is technology that forces your account to require multiple signatures before performing transactions. You could, for example, set up a 2 of 3 multisig account where 2 signers out of 3 are required to approve a payment before it is issued out.
---
Next, we'll discuss how to access the Interstellar app.
3. Apps
Interstellar runs on your mobile or desktop web browser. Preferably on recent versions of Google Chrome, since that is where we do the majority of our tests.
You can access Interstellar in two ways.
3.1 Testnet
If you are new to Interstellar, we recommend you use the testnet version for practice. The testnet version of Interstellar doesn't use real money.
3.2 Mainnet
Use the mainnet version if you are already comfortable with how Interstellar operates. The mainnet version of Interstellar use real money.
---
Have you decided what version of Interstellar you will use? Good. Let's get started.
4. Getting Started
4.1 Launch
You can launch Interstellar by visiting any of the following two websites:
If you are on desktop, you should see the following screenshot.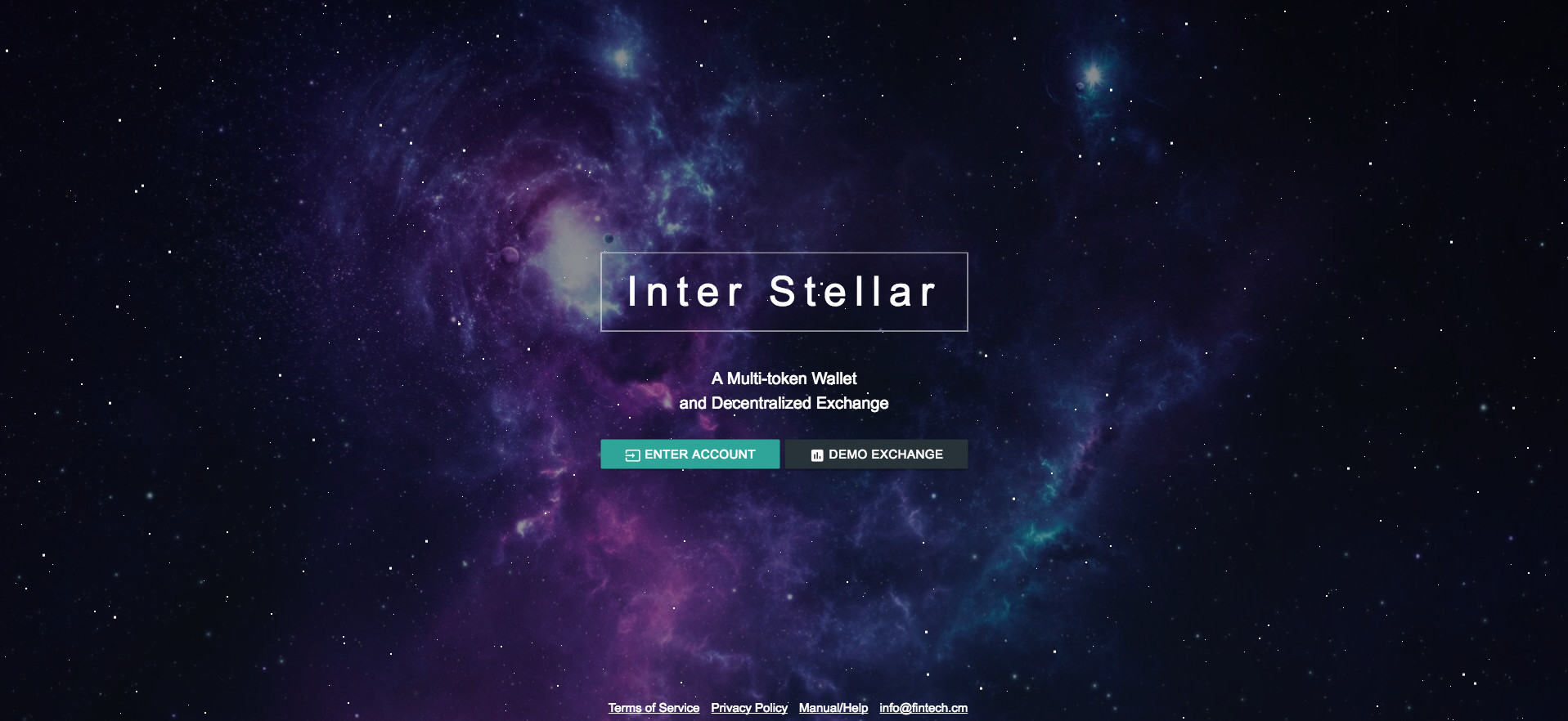 Click on Enter Account.
4.2 Session Password
Interstellar uses your session password to used to encrypt your sensitive information in your browser. Everytime you launch the Interstellar app, you will be required to either generate or reuse an existing session password.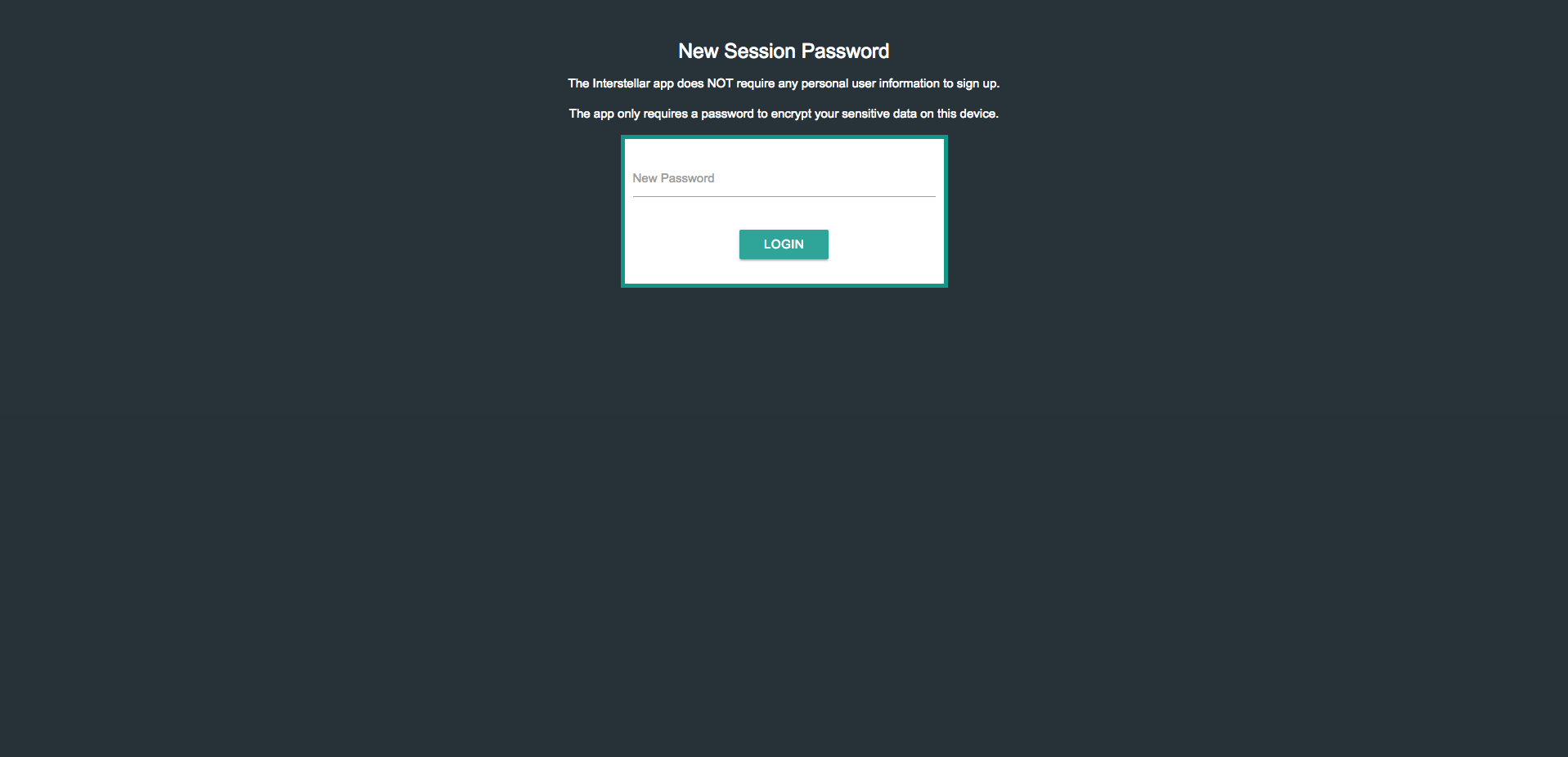 Trivia:

For your security, Interstellar stores your session password in your browser, encrypted with bcrypt. Your password is never transferred nor stored on any remote server.
---
Once you've successfully entered your session password, you can now start account management.
5. Account Management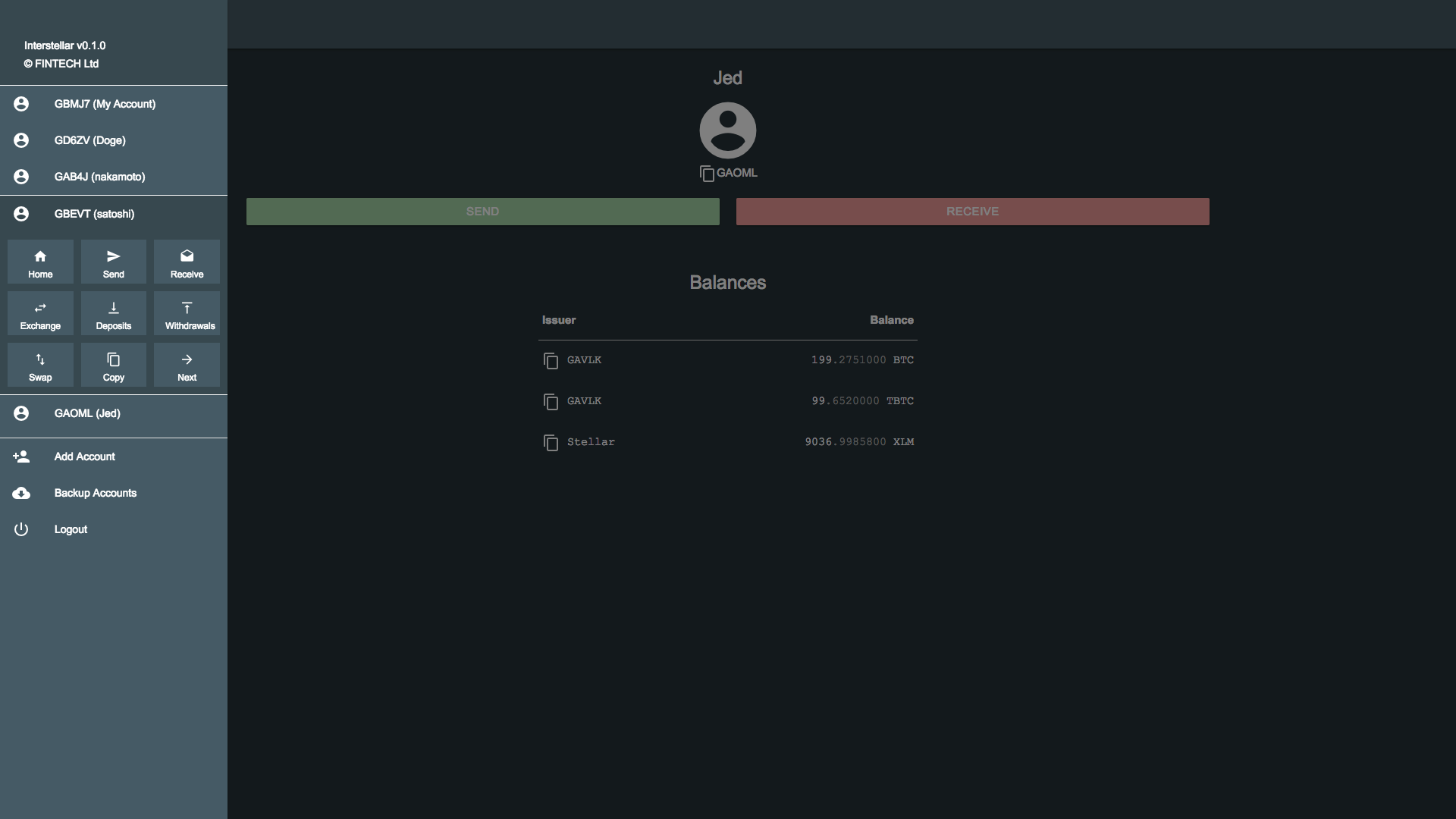 One cool feature about Interstellar is that it can handle multiple accounts. This is ideal for users who prefer to have separate accounts for different types of transactions.
To better understand account management on Interstellar, you need to understand the concept of private keys and public keys.
5.1 Public vs Secret Keys
Interstellar uses the concepts of public keys and private keys. In simple terms, your public key is like your username that can be shared publicly. Meanwhile your private key is like your password that should never ever be shared with anyone.
Interstellar will automatically create a new private key for you whenever you want to create a new account. If you need two separate accounts, you'll have to generate two separate private keys.
Tip:

Interstellar private keys usually start with S, meanwhile public keys usually start with G.

Sample Public Key: GAD3S5BU3PYR2I2SBROBM6ZSZVGP4LORSFTIHDZSPSZ2E4H7AVRDNTP6

Sample Secret Key: SCWB7Y6CS4UERWA4QHMA27ARIQYDPF7IHGIXYJ7VFFAGLYNNP4GKXLH2
5.2 Create A New Account
To create a new account on Interstellar:
Click on the hamburger menu on the top left.
Select create account.
You'll be presented with two choices: a random key, or answering a questionnaire.

use the random key option if you want a new account quickly. Note however that the secret key this option generates will be hard to recover in case you lose it.
use the brainwallet option if you wish to generate a secret key that lives in your head. It will be easier to recover in case you misplace the secret key.
5.3 Import Existing Account
However you choose to create your Interstellar account, you'll end up with a secret key that looks like this: SCWB7Y6CS4UERWA4QHMA27ARIQYDPF7IHGIXYJ7VFFAGLYNNP4GKXLH2. Make sure you store that key securely.
You can import your secret key on a new computer if you wish to access your account on multiple devices.
5.4 BrainWallets
The brainwallet option is for users who may find it difficult or very inconvenient to safely store their secret keys as a bunch of text.
Please understand that even though Interstellar does many things to keep brainwallet safe, you shouldn't make it any easier for a hacker to "guess" the content of your brainwallet.
Tip:

Choose a complex password for your brainwallet. Don't choose words that can easily be found in any dictionary. Also make sure your password is at least 8 letters long with capital letters and numbers.

Don't choose obvious emoji sequences when generating your emojis. For example, don't choose three poops as your emoji sequence. That's the first thing a hacker will try.
5.6 Backups
You should backup your accounts every time you add a new private to Interstellar.
To backup your accounts:
Make sure no one is around you.
Click on the hamburger menu on the top left.
Select export accounts.
Enter your session password.
The secret keys of your accounts will appear on the screen. You can copy and paste your keys in a separate backup in any other secure medium.
---
At this stage, you should have at least one successfully funded account.
6. Assets
The Stellar distributed network can be used to track, hold, and transfer any type of asset: dollars, euros, bitcoin, stocks, gold, and other tokens of value. Any asset on the network can be traded and exchanged with any other.
Other than lumens, all assets have:
Asset type: e.g., USD or BTC
Issuer: the account that created the asset.
Read more here.
On Interstellar, the asset balances for an account appear on the account's homepage as shown below.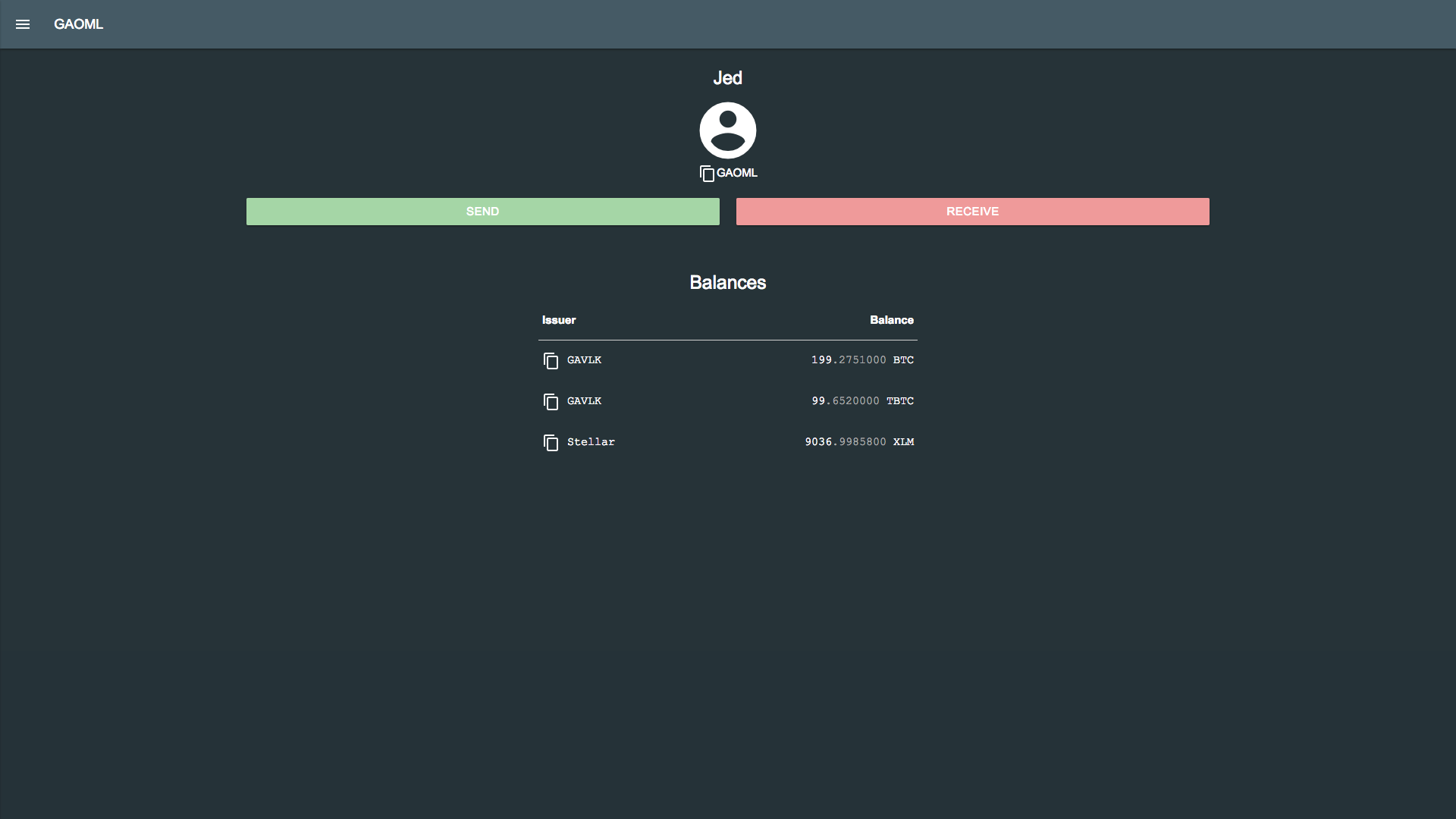 7. Deposits and Withdrawals
7.1 Deposits or Account Funding
Got an account? Congratulations.
Unfortunately, your account is almost useless without funds in it. You'll have to fund your account with some Stellar Lumens to perform any transactions on the decentralized network.
Interstellar currently supports two principal currencies for funding an account. They are:
Stellar Lumens: You need at least 21 stellar lumens to activate your account.
Bitcoin: Deposit at least 0.01 bitcoin on Interstellar, and you'll receive some Stellar Lumens in exchange.
To perform any deposits:
Click on the hamburger menu on the top left.
Click on Deposits.
Deposit Stellar Lumens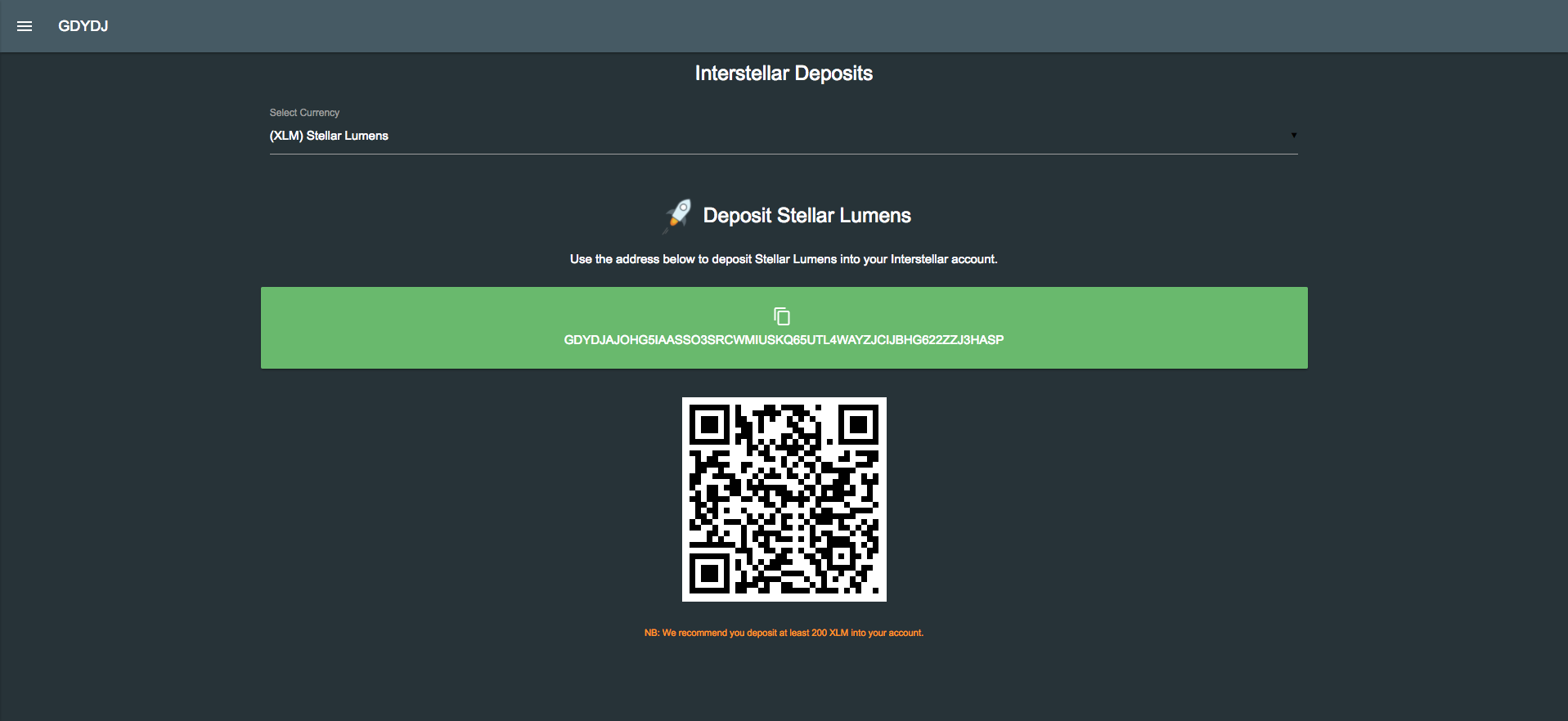 Deposit BTC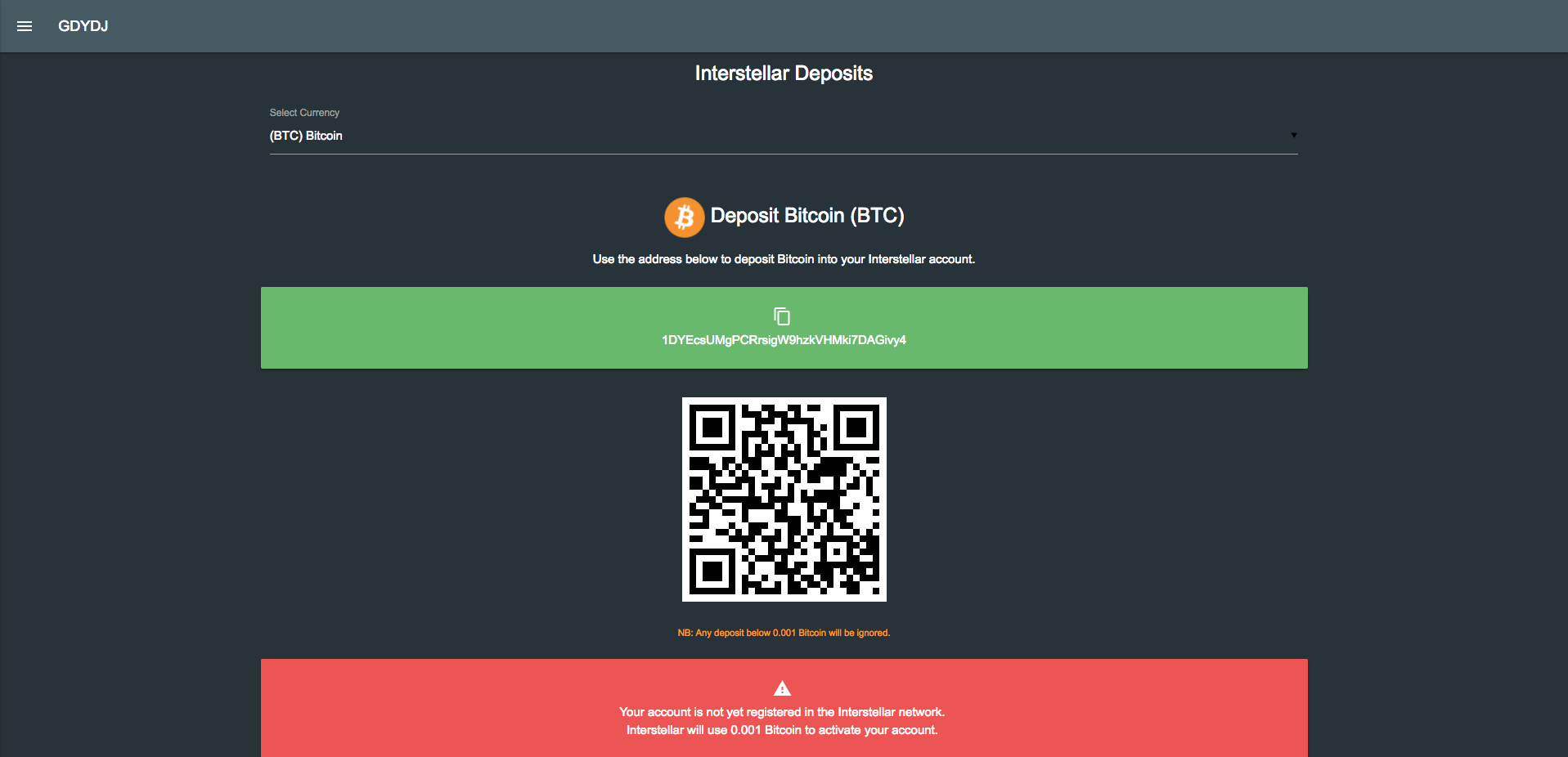 7.2 Withdrawals
To perform any withdrawals:
Click on the hamburger menu on the top left.
Click on Withdrawals.
Withdraw BTC
You can withdraw your BTC at any time.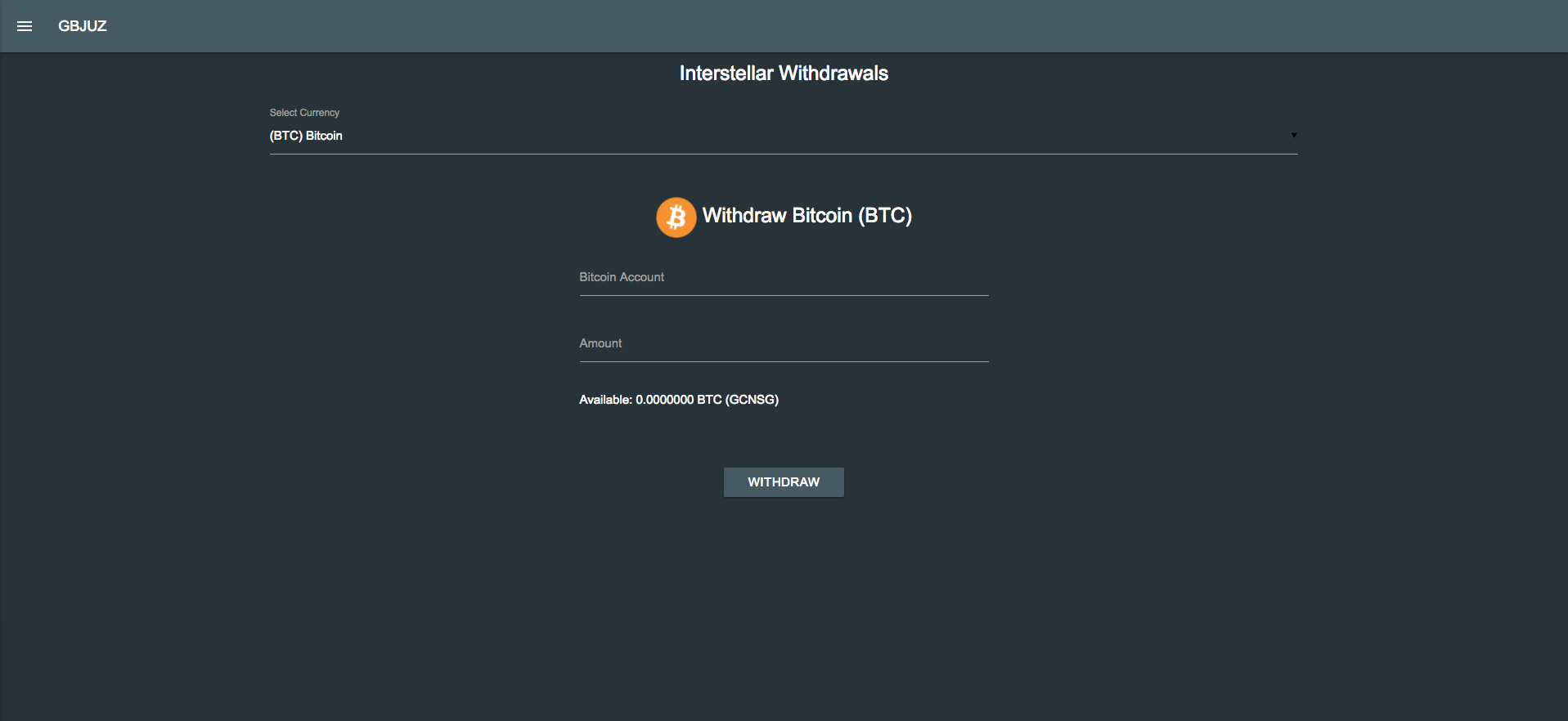 8. Send Assets
It's quite easy to send assets on Interstellar.
Click on the hamburger menu on the top left.
Select the account you wish to send from.
Click on Send.
Enter the public address of the account you want to send to.
8.1 Federation
Sharing your public key all the time can be error prone and inconvenient for some users.
Federation is one easy way to map your public key to a more human friendly format, just like an email address.
As an example, rather than sending funds to GCNSGHUCG5VMGLT5RIYYZSO7VQULQKAJ62QA33DBC5PPBSO57LFWVV6P, you could just as easily send to bank*interstellar.exchange. The latter is easier to remember.
To set up federation for your own accounts:
Click on the hamburger menu on the top left.
Select the account you wish to federate.
Click on the Next button
Select Federation
Enter a new name for your federation account.
8.2 Transaction History
To view the transaction history for an account:
Click on the hamburger menu on the top left.
Select the account you wish to federate.
Click on the Next button
Select History
8.3 Notifications
Interstellar has this cool feature where all transactions on your accounts are notified in real time in your app. The notifications appear on the top right of the screen.
9. Multisig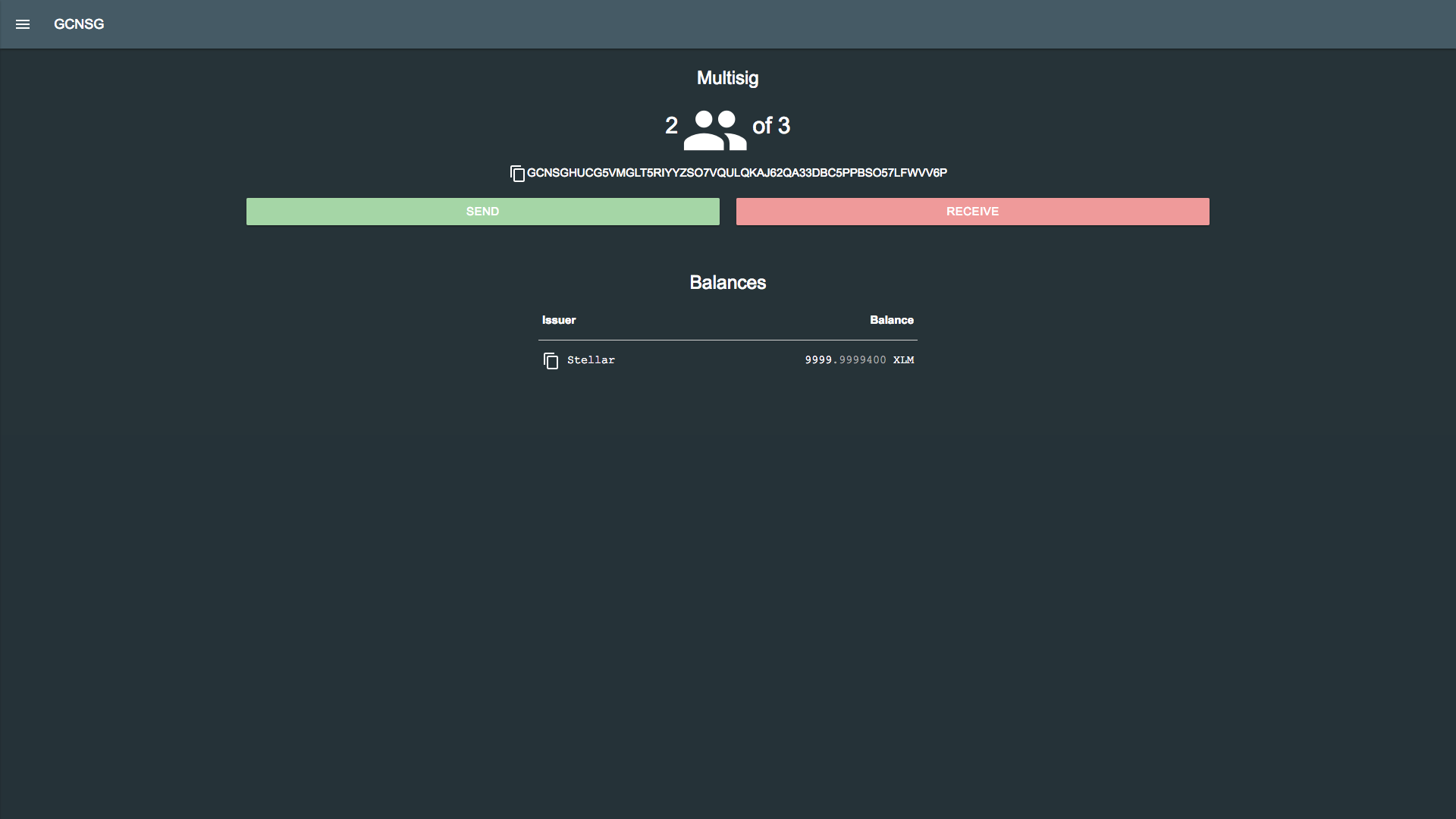 Multisig is a great way to secure your account from theft and loss, by requiring multiple signatures to approve any transaction.
Multisig accounts on Interstellar follow the M of N pattern:
M represents the minimum number of signers required to validate a transaction.
N represents the total number of signers available to validate a transaction.
E.g a 2 of 3 multisig account means you have 3 available signers, but only two are required to validate a transaction. A multisig account doesn't need permission to accept funds :).
9.1 Best Practices
By default, Interstellar accounts don't have multisig. This might be dangerous for companies or holders of large funds. If your private key gets lost or stolen, you lose all funds.
1 of 2 multisig accounts are not generally recommended. They will reduce the risk of loss, but will unfortunately increase the risk of theft. If one of the signers has his/her key stolen, the attacker can gain control of the account.
2 of 2 multisig accounts are not generally recommended. They will reduce the risk of theft, but will unfortunately also increase the risk of loss. If one of the signers loses his/her key, the account will be locked forever.
2 of 3 multisig accounts are recommended. They will reduce the risk of theft and also reduce the risk of loss. If one of the signers loses his/her key, the other two signers can continue signing and even replace the lost key with a new key.
In general, we recommend (N/2 + 1 ):N multisig accounts. That is, just a little bit above half of the available signers should be required.
9.2 Setup Multisig Accounts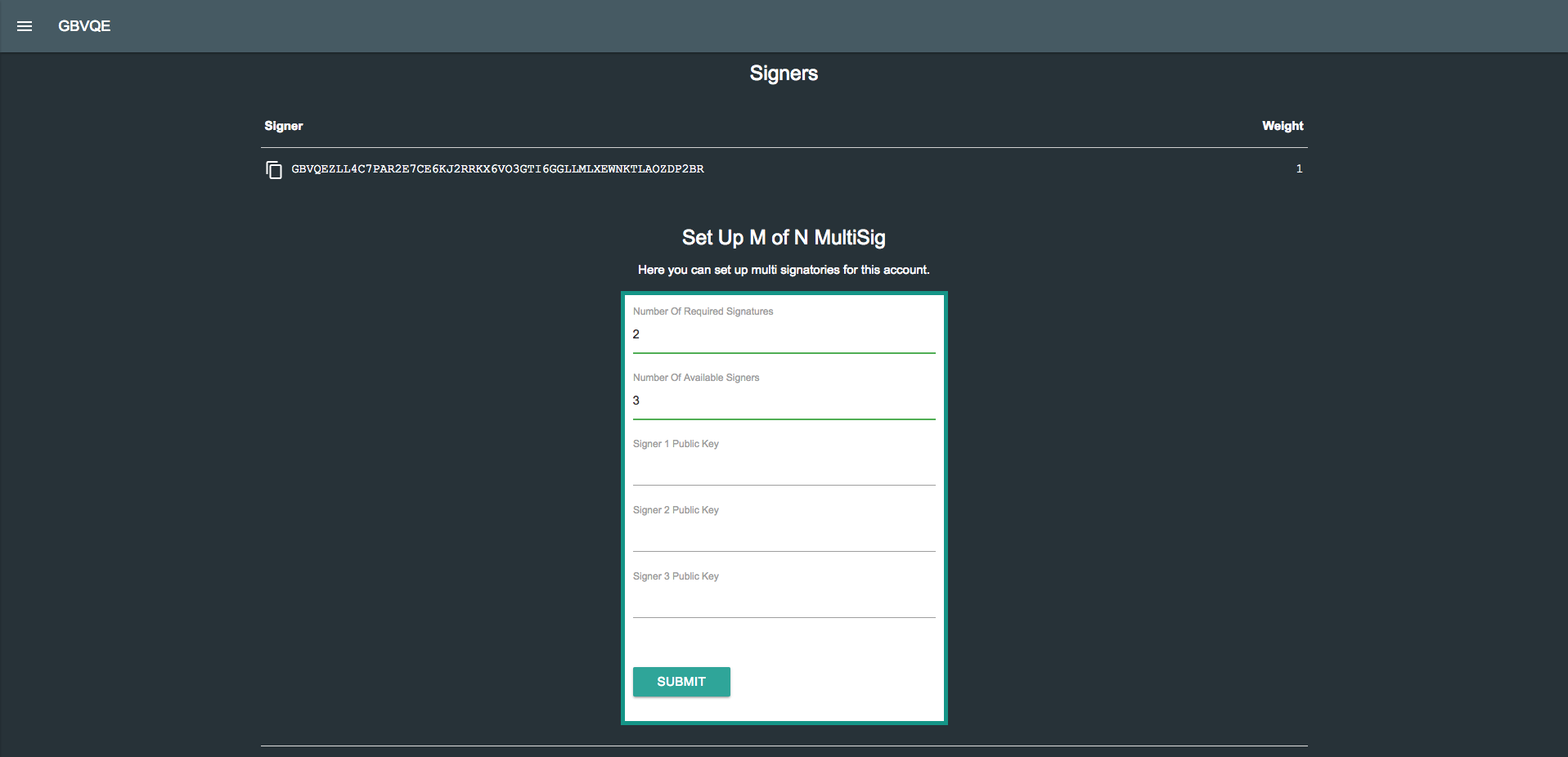 To set up a multisig account:
Click on the hamburger menu on the top left.
Select Multisig
Select the account you want to transform to multisig.
Input the number of required signatures.
Input the number of available signature.
Input the public keys of the signers.
And you're done.
9.3 Multisig Transactions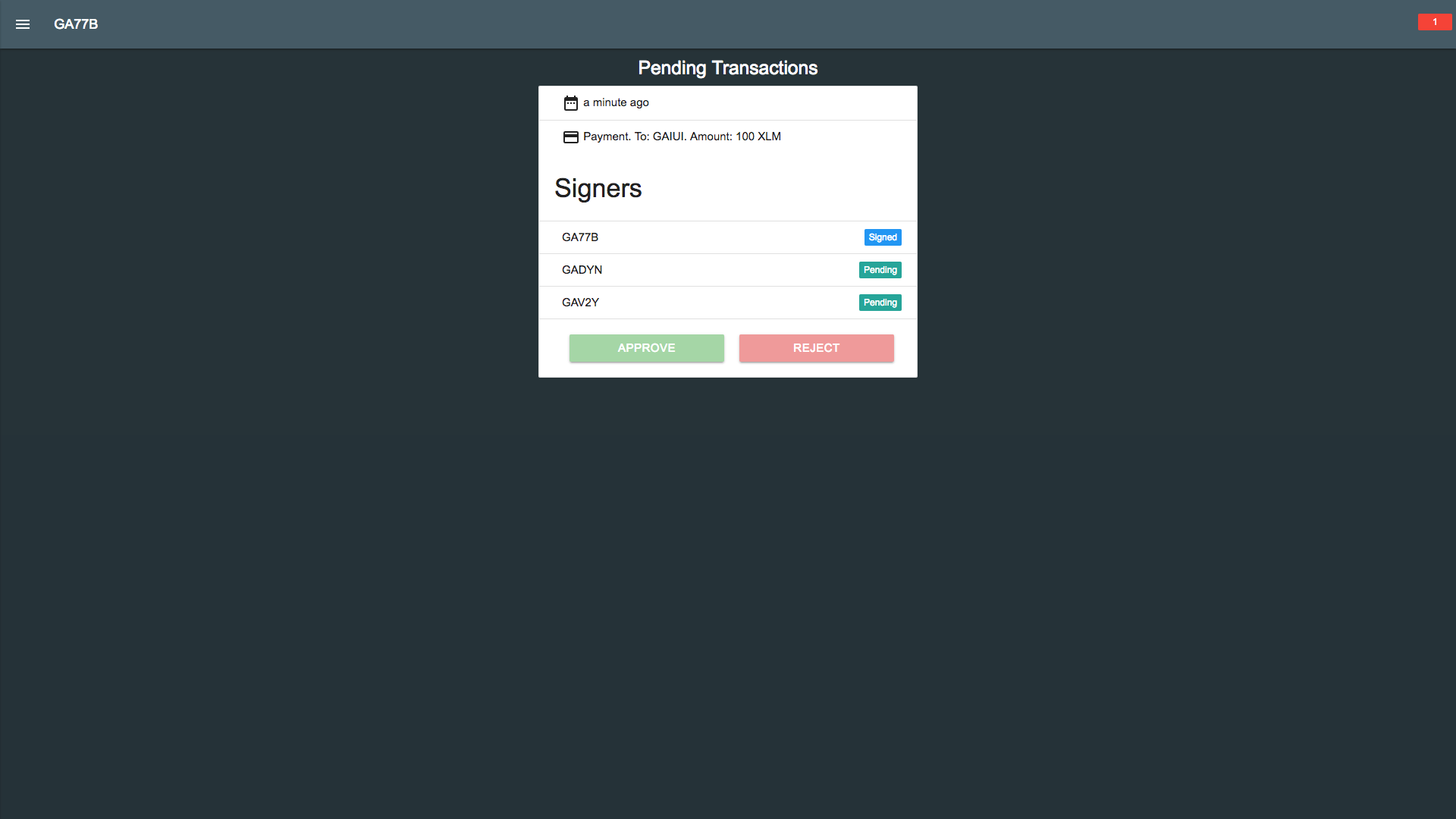 Transactions on a multisig account are done the same you'd perform any normal operation.
For example, to send funds from a multisig account to any another account, simply go to the send form and input the destination's address.
The difference however, is that your transactions don't confirm immediately. Instead, each of the available signers are notified that they have pending transactions to sign.
Multisig notifications appear in red on the top right corner of the screen. When you click on a multisig notification, you will see the list of pending requests available for you to sign.The signers are then given a choice to either accept or reject the transaction.
Suppose you had a 2 of 3 multisig account. If 1 signer rejected the transaction, and 2 users accepted the transaction, the transaction will still be validated.
10. Decentralized Exchange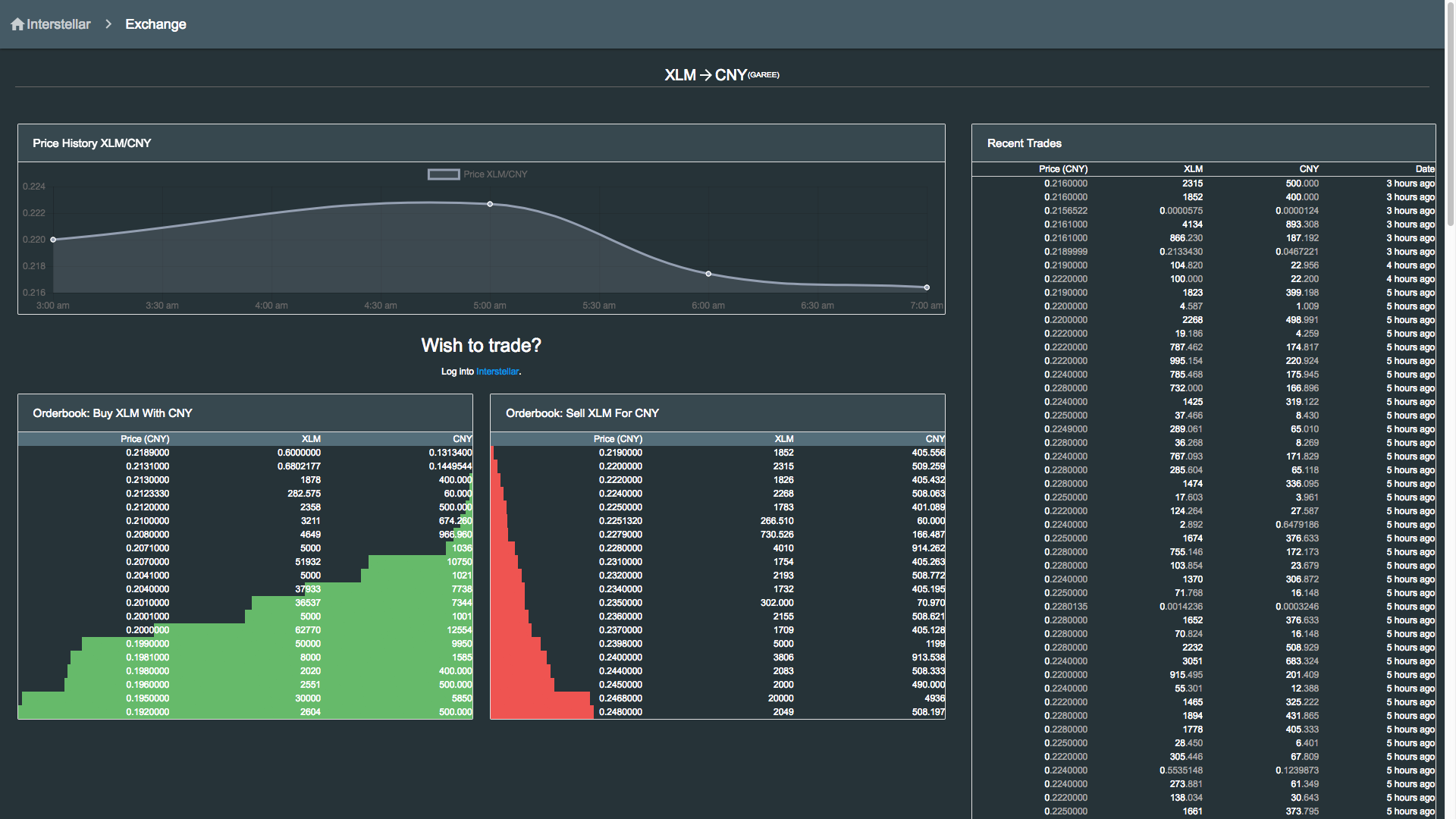 Interstellar runs a decentralized exchange, powered by Stellar.
To effectively use Interstellar's decentralized exchange, you need to understand basic trading terms like orderbook, sell orders and buy orders.
10.1 Trade/Exchange
You need to be logged in with your Interstellar account before you can perform a trade. The logged in view enables the Buy and Sell forms, which are absent when viewing the decentralized exchange in guest mode.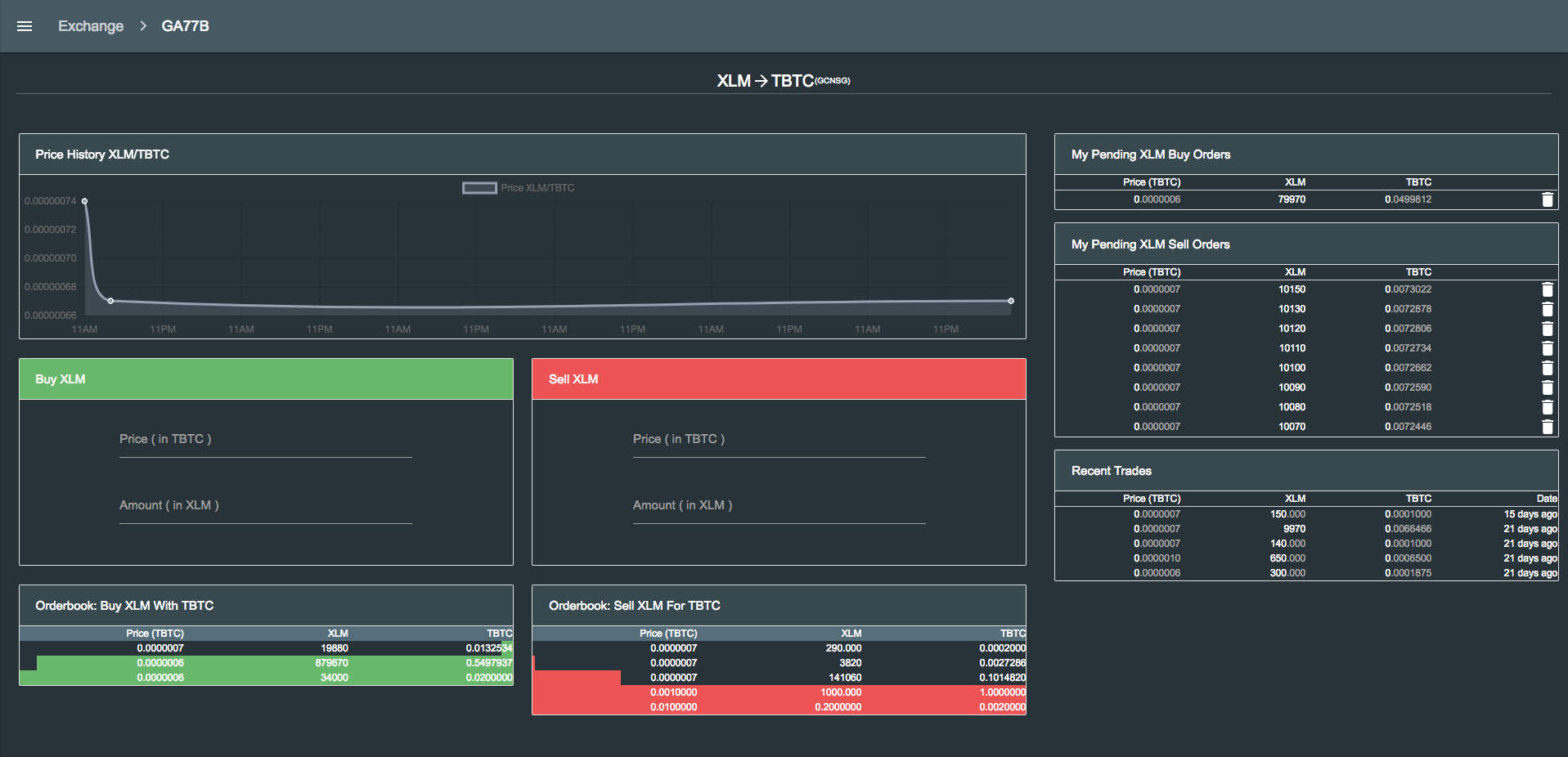 To access the exchange:
Click on the hamburger menu on the top left of the screen.
Select the account you want to trade with.
Click on Exchange.
Create the trading pair you want to trade with. Voila!
10.2 Swap
Interstellar's swap feature is ideal for moments when you are not in the mood to trade and want to do a quick currency conversation at market prices.
Note that market price here refers to the lowest price a trader is willing to sell the asset you want.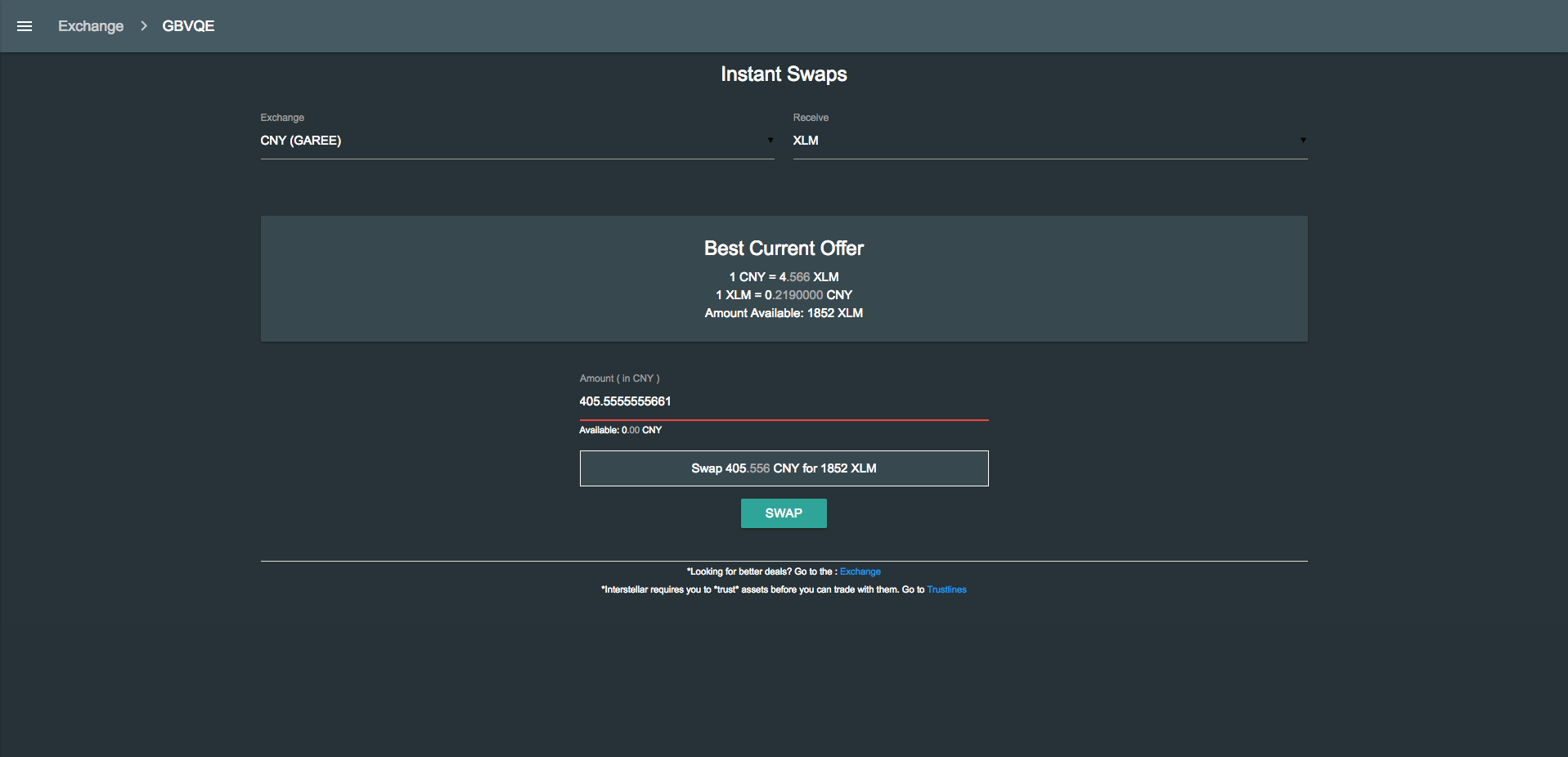 Privacy Policy
Last revised on November 2017
The Gist
Fintech LTD, hereinafter referred to as FINTECH, will collect certain non-personally identify information about you as you use our sites. We may use this data to better understand our users. We can also publish this data, but the data will be about a large group of users, not individuals.
We will also ask you to provide personal information, but you'll always be able to opt out. If you give us personal information, we won't do anything evil with it.
We can also use cookies, but you can choose not to store these.
That's the basic idea, but you must read through the entire Privacy Policy below and agree with all the details before you use any of our sites.
Questions
If you have question about this Privacy Policy, please contact us at info@fintech.cm
Visitors
Like most website operators, FINTECH collects non-personally-identifying information of the sort that web browsers and servers typically make available, such as the browser type, language preference, referring site, and the date and time of each visitor request. FINTECH's purpose in collecting non-personally identifying information is to better understand how FINTECH's visitors use its website. From time to time, FINTECH may release non-personally-identifying information in the aggregate, e.g., by publishing a report on trends in the usage of its website.
FINTECH also collects potentially personally-identifying information like Internet Protocol (IP) addresses. FINTECH does not use such information to identify its visitors, however, and does not disclose such information, other than under the same circumstances that it uses and discloses personally-identifying information, as described below. We may also collect and use IP addresses to block users who violated our Terms of Service.
Gathering of Personally-Identifying Information
Certain visitors to FINTECH's websites choose to interact with FINTECH in ways that require FINTECH to gather personally-identifying information. The amount and type of information that FINTECH gathers depends on the nature of the interaction. FINTECH collects such information only insofar as is necessary or appropriate to fulfill the purpose of the visitor's interaction with FINTECH. FINTECH does not disclose personally-identifying information other than as described below. And visitors can always refuse to supply personally-identifying information, with the caveat that it may prevent them from engaging in certain Service-related activities.
Additionally, some interactions, such as posting a comment, may ask for optional personal information. For instance, when posting a comment, may provide a website that will be displayed along with a user's name when the comment is displayed. Supplying such personal information is completely optional and is only displayed for the benefit and the convenience of the user.
Aggregated Statistics
FINTECH may collect statistics about the behavior of visitors to the Service. For instance, FINTECH may monitor the most popular parts of the https://interstellar.exchange. FINTECH may display this information publicly or provide it to others. However, FINTECH does not disclose personally-identifying information other than as described below.
Protection of Certain Personally-Identifying Information
FINTECH discloses potentially personally-identifying and personally-identifying information only to those of its employees, contractors and affiliated organizations that (i) need to know that information in order to process it on FINTECH's behalf or to provide services available at FINTECH's websites, and (ii) that have agreed not to disclose it to others. Some of those employees, contractors and affiliated organizations may be located outside of your home country; by using the Service, you consent to the transfer of such information to them. FINTECH will not rent or sell potentially personally-identifying and personally-identifying information to anyone. Other than to its employees, contractors and affiliated organizations, as described above, FINTECH discloses potentially personally-identifying and personally-identifying information only when required to do so by law, or when FINTECH believes in good faith that disclosure is reasonably necessary to protect the property or rights of FINTECH, third parties or the public at large. If you are a registered user of the Service and have supplied your email address, FINTECH may occasionally send you an email to tell you about new features, solicit your feedback, or just keep you up to date with what's going on with FINTECH and our products. We primarily use our website and blog to communicate this type of information, so we expect to keep this type of email to a minimum. If you send us a request (for example via a support email or via one of our feedback mechanisms), we reserve the right to publish it in order to help us clarify or respond to your request or to help us support other users. FINTECH takes all measures reasonably necessary to protect against the unauthorized access, use, alteration or destruction of potentially personally-identifying and personally-identifying information.
Cookies
A cookie is a string of information that a website stores on a visitor's computer, and that the visitor's browser provides to the Service each time the visitor returns. FINTECH uses cookies to help FINTECH identify and track visitors, their usage of FINTECH Service, and their Service access preferences. FINTECH visitors who do not wish to have cookies placed on their computers should set their browsers to refuse cookies before using FINTECH's websites, with the drawback that certain features of FINTECH's websites may not function properly without the aid of cookies.
Data Storage
FINTECH uses third party vendors and hosting partners to provide the necessary hardware, software, networking, storage, and related technology required to run the Service. You understand that although you retain full rights to your data, it may be stored on third party storage and transmitted through third party networks.
Privacy Policy Changes
Although most changes are likely to be minor, FINTECH may change its Privacy Policy from time to time, and in FINTECH's sole discretion. FINTECH encourages visitors to frequently check this page for any changes to its Privacy Policy. Your continued use of this site after any change in this Privacy Policy will constitute your acceptance of such change.
Terms of Service
Last revised on Nov 2017
The Gist
Fintech LTD, hereinafter referred to as FINTECH, operates the INTERSTELLAR service, which we hope you use. If you use it, please use it responsibly. If you don't, we'll have to terminate your account.
For paid accounts, you'll be charged on a monthly basis. You can cancel anytime, but there are no refunds.
You own the source code that you provide to INTERSTELLAR and you're responsible for keeping it safe.
The Terms of Service, INTERSTELLAR itself, and our prices can change at any time. We'll warn you 30 days in advance of any price changes. We'll try to warn you about major changes to the Terms of Service or INTERSTELLAR, but we make no guarantees.
That's the basic idea, but You must read through the entire Terms of Service below and agree with all the details before You use any of our sites (whether or not you have created an account).
Your Agreement with FINTECH
Your use of the FINTECH service is governed by this agreement (the "Terms"). "FINTECH" means Fintech LTD. The "Service" means the services FINTECH makes available include our web sites (https://interstellar.exchange), our blog, our API, and any other software, sites, and services offered by FINTECH in connection to any of those. "Customer Source Code" means any source code you submit to FINTECH for the purpose of using the Service. "Content" means all content generated by FINTECH on your behalf (including metric data) and does not include Customer Source Code.
In order to use the Service, You (the "Customer", "You", or "Your") must first agree to the Terms. You understand and agree that FINTECH will treat Your use of the Service as acceptance of the Terms from that point onwards.
FINTECH may make changes to the Terms from time to time. You may reject the changes by terminating Your account. You understand and agree that if You use the Service after the date on which the Terms have changed, FINTECH will treat Your use as acceptance of the updated Terms.
If you have any question about the Terms, please contact us at info@fintech.cm.
Your Account
You may not use the Service if You are a person barred from receiving the Service under the laws of the United States or other countries, including the country in which You are resident or from which You use the Service.
You may not use the service unless you are over the age of 13.
You must be a human. Account created by automated methods are not permitted.
Use of the Service
You must provide accurate and complete registration information any time You register to use the Service.
You are responsible for the security of Your passwords and for any use of Your account.
Your use of the Service must comply with all applicable laws, regulations and ordinances.
You agree to not engage in any activity that interferes with or disrupts the Service.
FINTECH reserves the right to enforce quotas and usage limits (to any resources, including the API) at its sole discretion, with or without notice, which may result in FINTECH disabling or throttling your usage of the Service for any amount of time.
You may not allow multiple people to use the same account or otherwise access the Service in a manner intended to avoid incurring fees.
Service Policies and Privacy
The Service shall be subject to the privacy policy for the Service available at privacy policy. You agree to the use of Your data in accordance with FINTECH's privacy policies.
Fees for Use of the Service
The Service may be provided to You without charge up with certain limits or for a certain "trial" period of time.
Usage over this limit (or after the "trial" period) requires Your purchase of additional resources or services.
For all purchased resources and services, we will charge Your credit card on a monthly basis.
Payments are non-refundable. There will be no refunds or credits for partial months of service, upgrade/downgrade refunds, or refunds for months unused with an open account.
Charges are solely based on FINTECH's measurements of Your use of the Service, unless otherwise agreed to in writing.
All fees are exclusive of all taxes, levies, or duties imposed by taxing authorities, and You shall be responsible for payment of all such taxes, levies, or duties.
You acknowledge and agree that any credit card and related billing and payment information that You provide to FINTECH may be shared by FINTECH with companies who work on FINTECH's behalf, such as payment processors and/or credit agencies, solely for the purposes of checking credit, effecting payment to FINTECH and servicing Your account.
FINTECH may change its fees and payment policies for the Service by notifying You at least thirty (30) days before the beginning of the billing cycle in which such change will take effect.
Cancellation and Termination
You must cancel Your account via https://interstellar.exchange. An email or phone request to cancel Your account is not considered cancellation.
You will not receive any refunds if You cancel Your account.
If You cancel the Service before the end of Your current paid up month, Your cancellation will take effect immediately and You will not be charged again.
All of Customer Source Code and Content will, within a reasonable amount of time to be determined solely by FINTECH, be deleted from the Service upon cancellation.
You agree that FINTECH, in its sole discretion and for any or no reason, may terminate or suspend Your account. You agree that any termination of Your access to the Service may be without prior notice, and You agree that FINTECH will not be liable to You or any third party for such termination.
Ideas and Feedback
You may choose to or we may invite You to submit comments or ideas about the Service, including but not limited to ideas about improving the Service or our products ("Ideas"). By submitting any Idea, You agree that Your disclosure is unsolicited and without restriction and will not place FINTECH under any fiduciary or other obligation, and that we are free to use the Idea without any additional compensation to You, and/or to disclose the Idea on a non-confidential basis or otherwise to anyone.
Modification of the Service
You acknowledge and agree that the Service may change from time to time without prior notice to You.
Changes include, without limitation, changes to fee and payment policies, security patches, added or removed functionality, and other enhancements or restrictions.
FINTECH shall not be liable to you or to any third party for any modification, price change, suspension or discontinuance of the Service.
External Resources
The Services may include hyperlinks to other web sites or content or resources or email content. You acknowledge and agree that FINTECH is not responsible for the availability of any such external sites or resources, and does not endorse any advertising, products or other materials on or available from such web sites or resources.
License from FINTECH and Restrictions
FINTECH gives You a personal, worldwide, royalty-free, non-assignable and non-exclusive license to use the software provided to You by FINTECH as part of the Service as provided to You by FINTECH. This license is for the sole purpose of enabling You to use and enjoy the benefit of the Service as provided by FINTECH, in the manner permitted by the Terms.
You may not (and You may not permit anyone else to): (a) copy, modify, create a derivative work of, reverse engineer, decompile or otherwise attempt to extract the source code of the Service or any part thereof, unless this is expressly permitted or required by law, or unless You have been specifically told that You may do so by FINTECH, in writing (e.g., through an open source software license); or (b) attempt to disable or circumvent any security mechanisms used by the Service.
Open source software licenses for components of the Service released under an open source license constitute separate written agreements. To the limited extent that the open source software licenses expressly supersede these Terms, the open source licenses govern Your agreement with FINTECH for the use of the components of the Service released under an open source license.
Exclusion of warranties
You expressly understand and agree that your use of the service is at your sole risk and that the service is provided "as is" and "as available.".
You agree that FINTECH has no responsibility or liability for the deletion or failure to store any Content and other communications maintained or transmitted through use of the Service. You further acknowledge that You are solely responsible for securing and backing up Customer Source Code.
FINTECH does not warrant to you that: (a) your use of the service will meet your requirements, (b) your use of the service will be uninterrupted, timely, secure or free from error, (c) the results or data provided by the Service will be accurate, (d) the quality of the service will meet your expectations and (e) any errors in the Service will be fixed.
Limitation of liability
You expressly understand and agree that FINTECH, its subsidiaries and affiliates, and its licensors shall not be liable to you for any direct, indirect, incidental, special consequential or exemplary damages which may be incurred by you, however caused and under any theory of liability. This shall include, but not be limited to, any loss of profit (whether incurred directly or indirectly), any loss of goodwill or business reputation, any loss of data suffered, cost of procurement of substitute goods or services, or other intangible loss (whether or not FINTECH has been advised of or should have been aware of the possibility of any such losses arising).
Indemnification
You agree to hold harmless and indemnify FINTECH, and its subsidiaries, affiliates, officers, agents, employees, advertisers, licensors, suppliers or partners (collectively "FINTECH and Partners") from and against any third party claim arising from or in any way related to (a) Your breach of the Terms, (b) Your use of the Service, (c) Your violation of applicable laws, rules or regulations in connection with the Service, or (d) Your Customer Source Code, including any liability or expense arising from all claims, losses, damages (actual and consequential), suits, judgments, litigation costs and attorneys' fees, of every kind and nature. In such a case, FINTECH will provide You with written notice of such claim, suit or action.
General Legal Terms
The Terms constitute the whole legal agreement between You and FINTECH and govern Your use of the Service and completely replace any prior agreements between You and FINTECH in relation to the Service.
You agree that if FINTECH does not exercise or enforce any legal right or remedy which is contained in the Terms (or which FINTECH has the benefit of under any applicable law), this will not be taken to be a formal waiver of FINTECH's rights and that those rights or remedies will still be available to FINTECH.
FINTECH shall not be liable for failing or delaying performance of its obligations resulting from any condition beyond its reasonable control, including but not limited to, governmental action, acts of terrorism, earthquake, fire, flood or other acts of God, labor conditions, power failures, and Internet disturbances.